Tribal Gaming Revenue Doled Out in Shasta County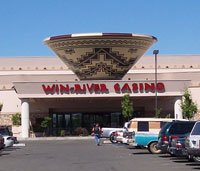 photo- Win River Casino in Redding, Ca
from redding.com
Six Shasta County fire protection and law enforcement agencies have been awarded a total of $259,152 in Indian gaming grants.
The Local Community Benefit Committee announced this morning the 2011-12 recipients are:
Shasta County Sheriff's Office, $50,000, to upgrade hand-held rescue radios and pay a casino deputy liaison;
Redding Fire Department, $50,517, to buy self-contained breathing-apparatus bottles;
Anderson Fire Protection District, $24,899, to buy equipment for a fire engine;
Happy Valley Fire Protection District, $13,536, to pay seasonal fire fighters;
Burney Fire Protection District, $45,000, to replace a command vehicle.
The monies assist in mitigating impacts caused by the Win River and Pit River Casinos.
The committee, which is composed of members from the Redding Rancheria, the city of Redding and the county, received 14 requests for funding.